Product updates
We like to keep you up to date what we are working on. Bugs we fix and new features we release. If you have any questions please let us know and if you can always request a new feature.
---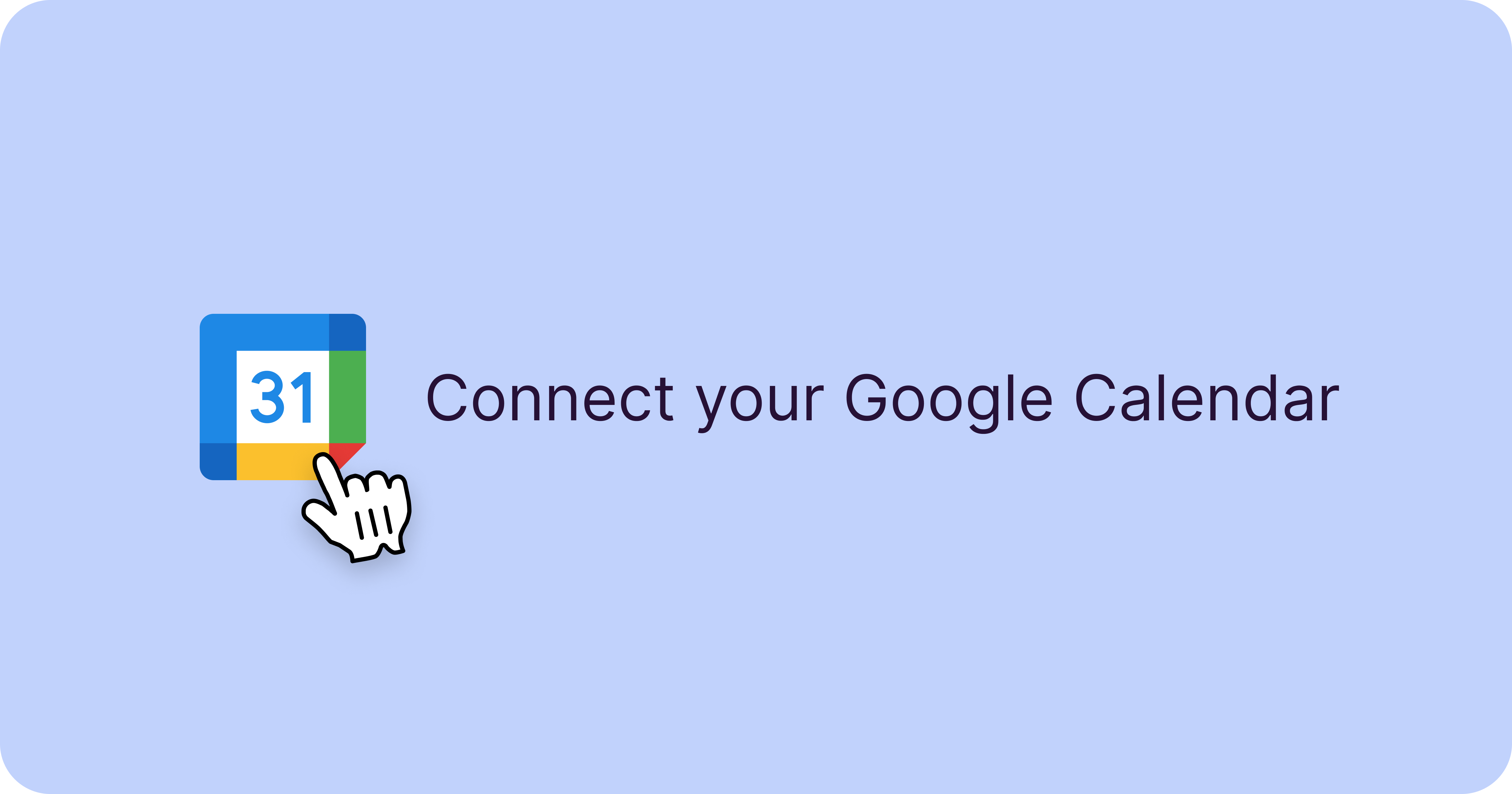 Connect your calendar
Jan 10, 2023 · New feature
You can now connect your Google Calendar to Octoa and have all your projects synced to your calendar. For all iCalendar users, you can add a Gmail account to your iCalendar to display it there.
You can also connect any Gmail account to your calendar integration to Sync your calendar. With this information, everyone can make the calendar integration work regardless of the calendar you use.
How to connect? Go to your settings, and under API integration, you'll find the option to connect your calendar.
---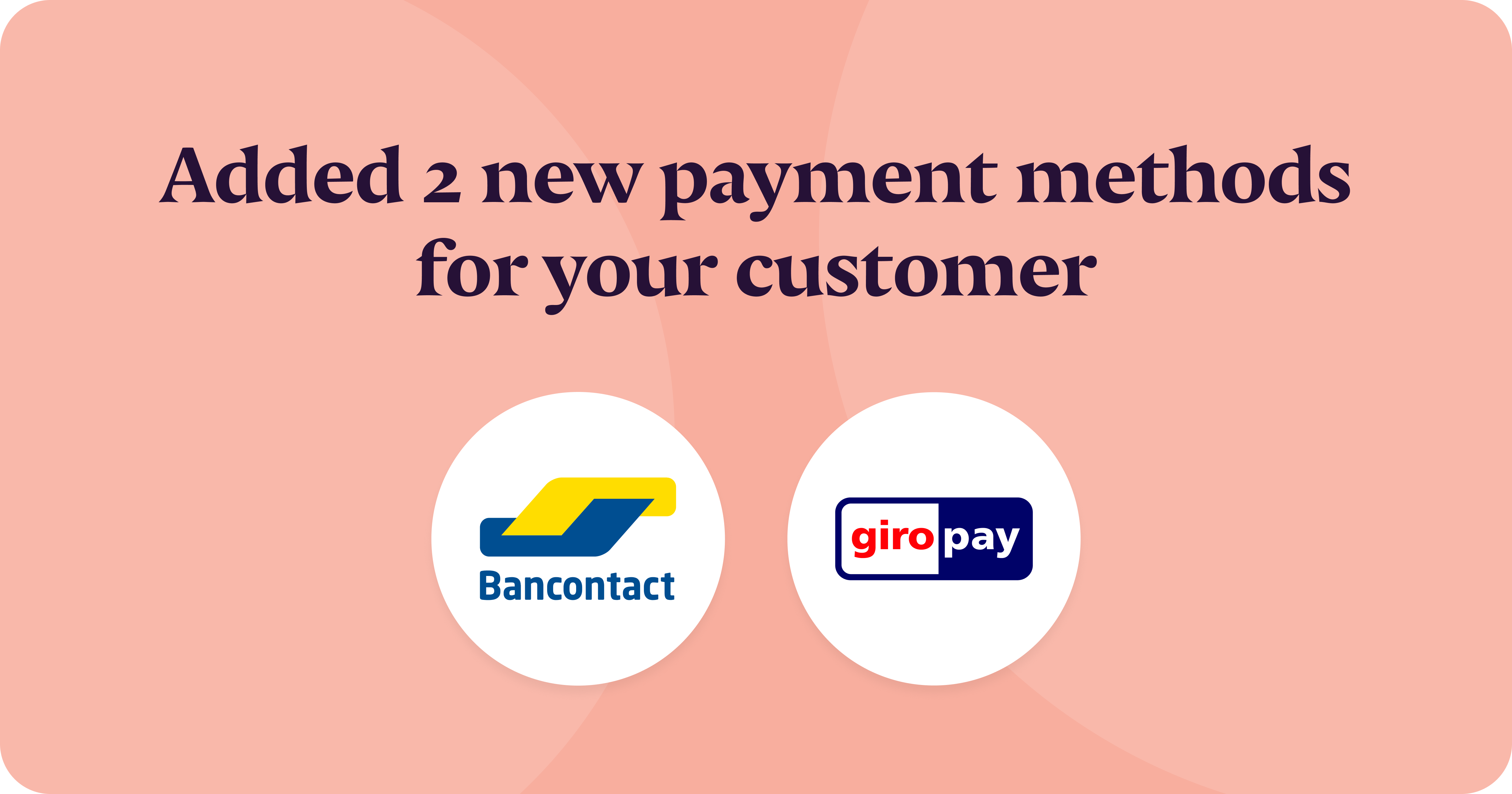 Bancontact & Giropay added
Nov 23, 2022 · New feature
For our 🇧🇪Belgium and 🇩🇪German members, we added Bancontact + Giropay.
This way, you make it easy for your customers to have your invoices paid via Bancontact or Giropay. Super efficient!
If your Stripe account is connected to Octoa, you can activate both payment methods under your invoicing settings.
---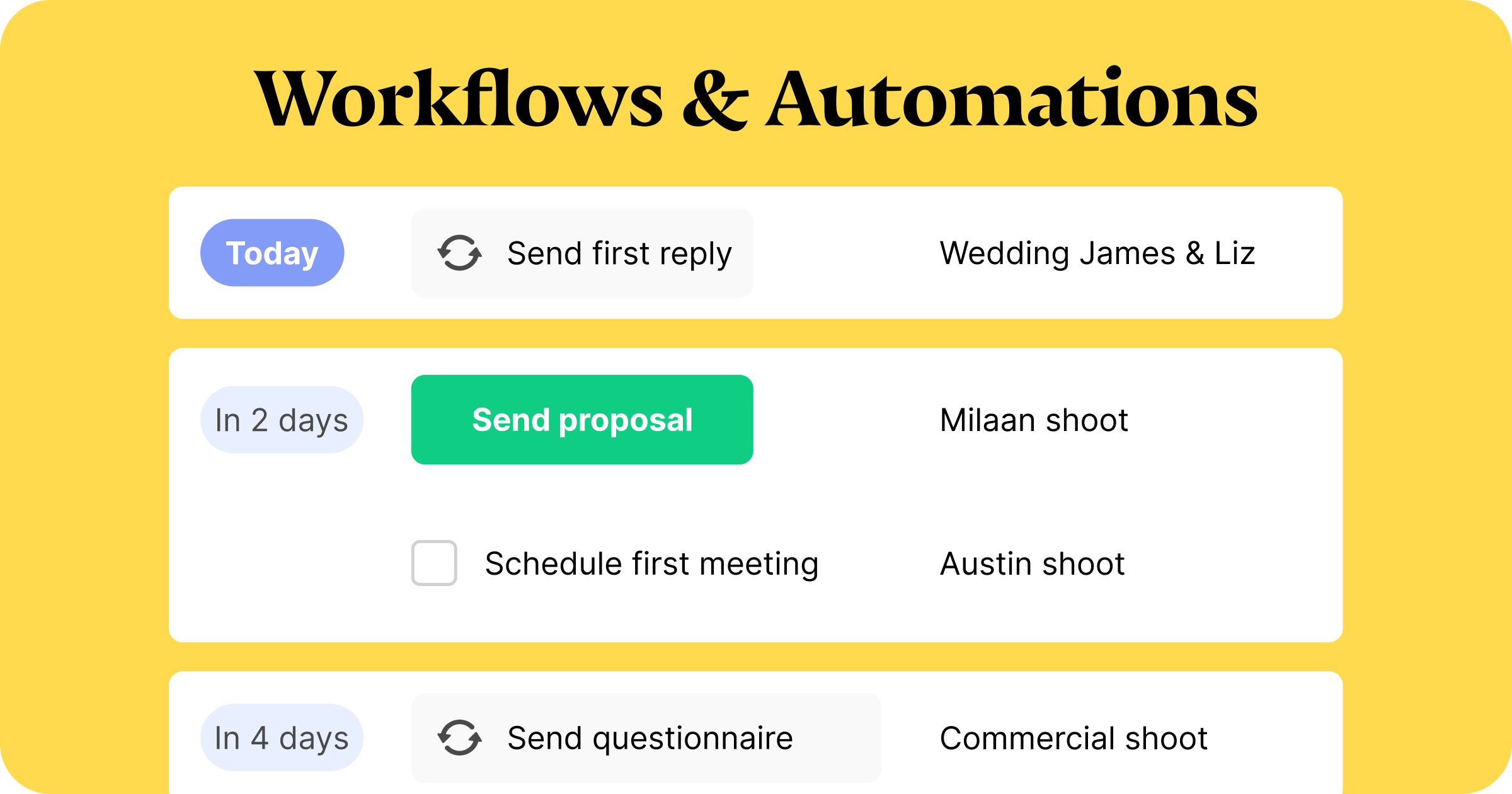 Start building your workflow
Aug 1, 2022 · New feature
The wait is over. We are beyond excited to announce that we have launched workflows & automations.
It is time to create your custom workflows to boost your productivity. Put your workflows on autopilot and let automations do the manual labor for you.
💫An improved project pipeline creates a better flow and aligns with how Octoans use the tool.

💪Create custom and automatic workflows to boost your productivity.

⚡️Let automations do the manual labor for you.

🧘‍♂️Create predefined tasks within each project phase

💎The tasks page will be your happiest place in the morning—one overview of everything you need to do for that day.


How it works
---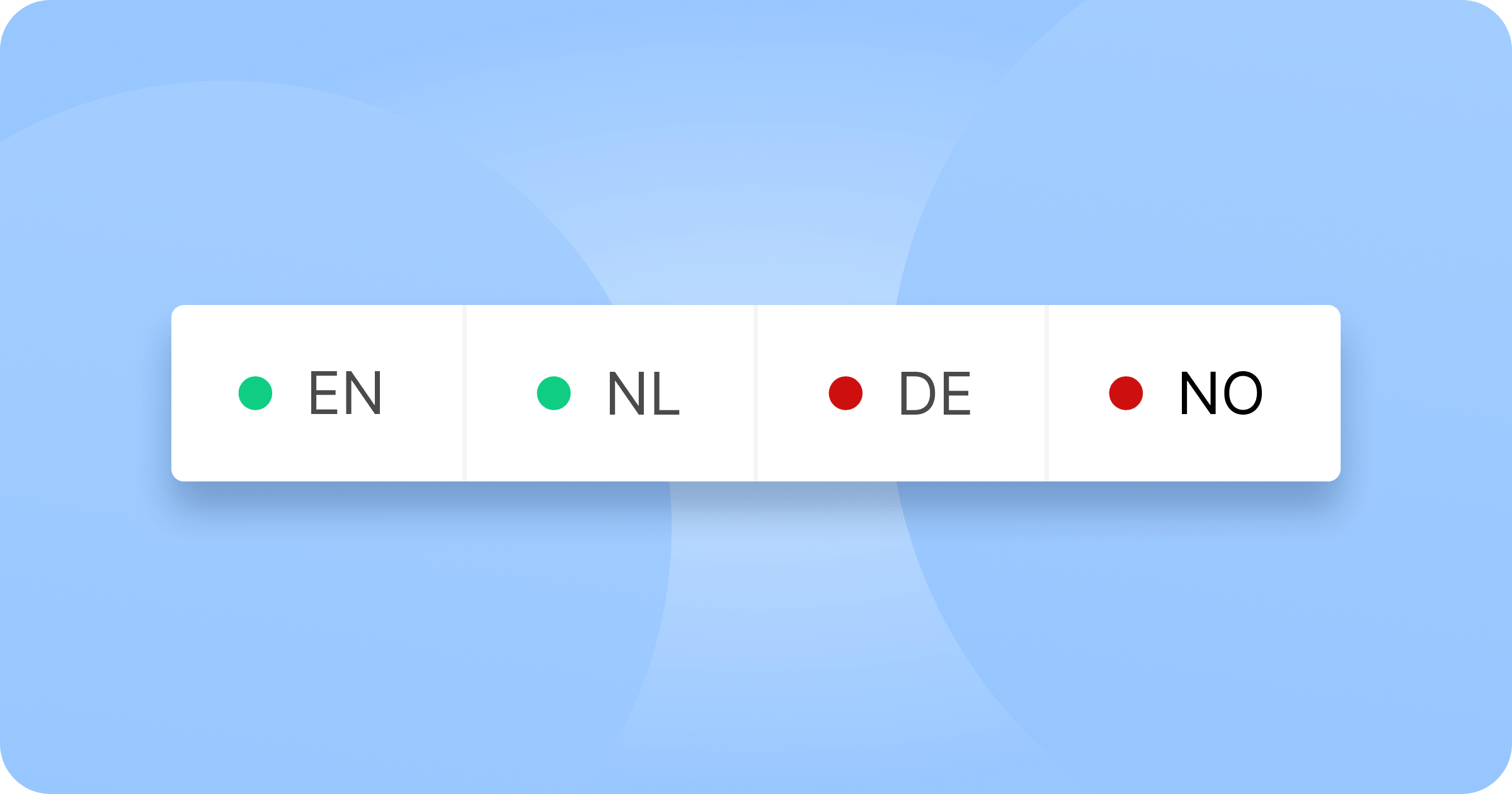 New Feature: Multi-language support for email templates
April 5, 2022 · New feature
In preparation for something big, we have just launched a new feature. Without bothering you with too many technical details, let me sum up the things you can now do within the Octoa tool:
Languages
You now find two options within the language settings, 'Supported languages' and 'Custom language.' You are probably familiar with supported languages, and you can use this for the things you send out to your customers, like proposals and invoices. But we now also added custom languages. We don't support translations for custom languages, so those will be in English. But you can use them to create and organize email templates.
E-mail templates
So that brings us to email templates under your template section. If you now select one of your email templates, you will find the language option you have activated in your language settings, including supported and custom languages. You currently have the option to create, for each language, a separate email template.
Watch the video
---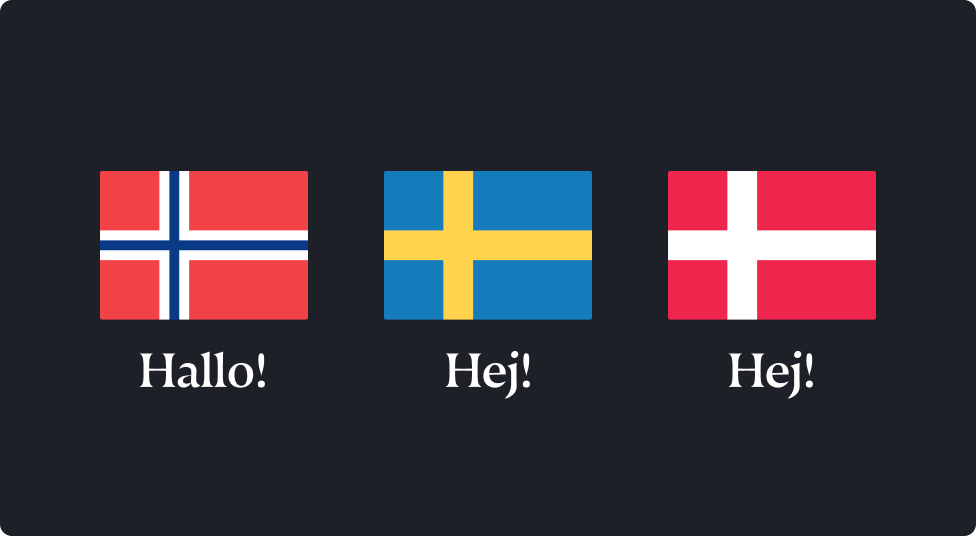 New languages added: Norwegian, Swedish and Danish
January 10, 2022 · New languages
We added Norwegian, Swedish, and Danish for you to set as a default language for the proposals and invoices you sent out to your client. You can also use these languages for each new project you create. You can find the language settings in your settings.
We now support the following languages:
English
Dutch
German
French
Spanish
Finish
Norwegian
Swedish
Danish
Is your language not supported? Send us a message through chat or hello@octoa.com
---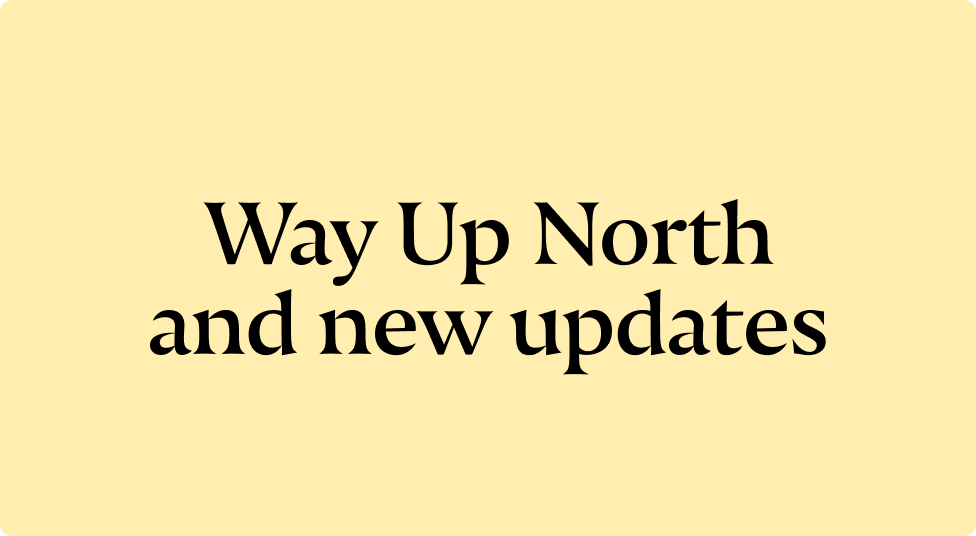 Way Up North 2021 & Updates
November 23, 2021 · Update
Update from the Octoa team. We are working hard on new (big) features that will take Octoa to the next level. Also we are present at Way Up North 2021 event in Copenhagen today and tomorrow. Meeting existing customers and new ones ☺️
In the meantime we pushed some new updates and small improvements:
Questionnaires
You can now create and send questionnaires to your clients to fill it. It works very similar to the Lead Form. You are also able to create templates for these so you can reuse them time and time again.
---
August 2021, Updates
August 11, 2021 · New features
Connect email through SMTP
Yes that sounds quite technical, but it means the emails sent from Octoa will go through your own email account instead of being sent from our servers. Meaning an even smaller chance of your emails ending in the spam box. Previously you were able to connect your email through Gmail connect, but now also through SMTP. This will allow for much more flexibility and different kinds of email services to connect.
Double inquiry/booking warning
When a new project with the same date is created you now get a small icon showing you already have an event on that specific date. This way you can better monitor your availability.
Calendar booked only filter
We made a new filter in the Calendar in which it only shows your booked projects. This will clear up your view especially if you have a lot of inquiries.
Text editor update
We made an update to the text editor, so it works better when pasting documents in and having better correlation to the final output in the e-mails. With this we also updated how the tokens work, instead of using brackets we now use the @ sign. But don't worry, the old tokens still function also. It's also for some future features we are going to implement like file uploads etc.
---
Calendar, Moneybird and more...
March 24, 2021 · New features
Calendar view
You can now see your projects and tasks easily and clearly in a calendar overview per month or even per year. It's even easier now to check your availability or get an idea of how busy you are going to be.
Moneybird Api Integration
A much requested feature from our Dutch users to integrate a bookkeeping tool, to automatically share invoices and contacts to Moneybird. Eliminating double work.
Google Login
A small update for our Gmail/Gsuite users, you can now login with the Google login button.
---

Flotheme integration
January 10, 2022 · New feature
Exciting news, we have teamed up with Flothemes to have a very easy integration. With a few clicks you can now use your Flothemes contact form and connect it with Octoa. So all your inquiries will be in your mailbox and directly inside the tool. Read all about it on the Flothemes website.
---
December 2020, Updates
December 3, 2020 · New features
E-mail pop-up update
You can now send emails from your project detail page and still see your project activities like lead form.
See your sent emails
Your sent emails can now be found back inside your project details and you can see if someone opened the email.
Select quantity in proposals
Clients can now select a quantity of your products inside your proposals. You can activate it per item
Add payment in invoice overview
In your invoice overview you can mark invoices manually as paid by the "add payment" option. Which was already available inside your project details.
Project overview filters
On your projects page, you can now filter on year and month. So you can quickly check your availability.
---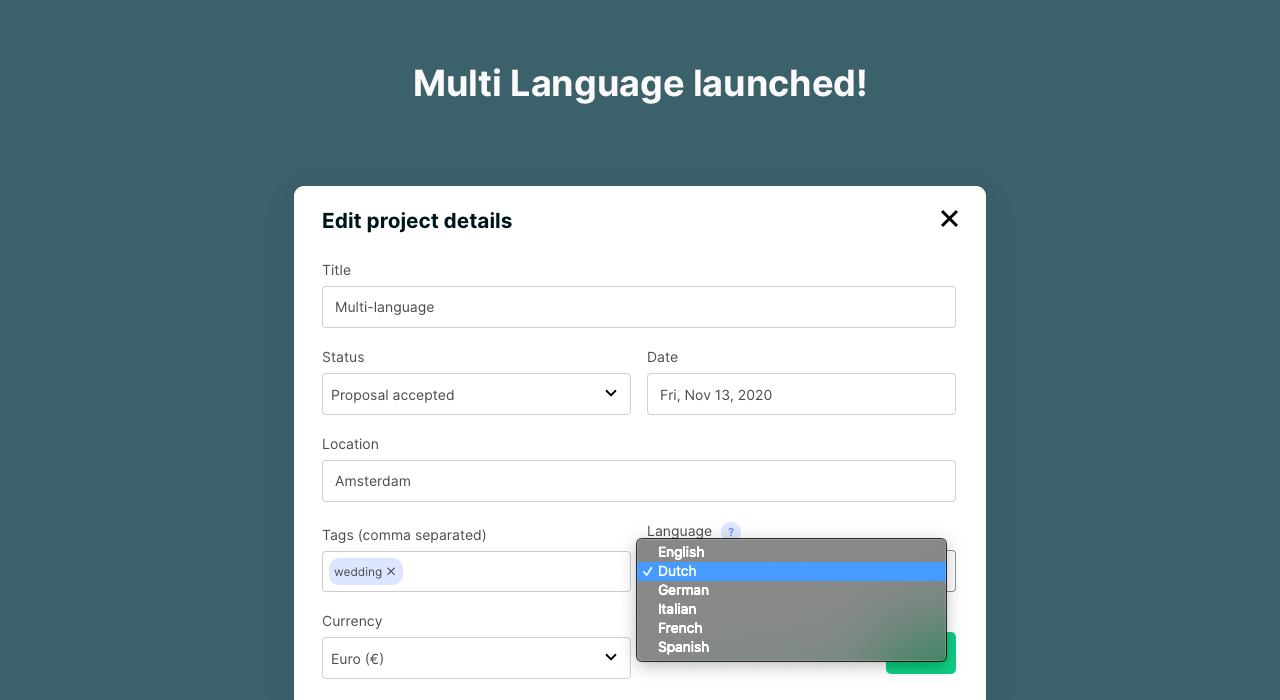 Multi language support
November 20, 2020 · New feature
This feature is excellent for people needing to work either in their local language, or multiple languages. You will be able to set the language per project, and it will make all client side communication (proposals and invoices) in this language.
Currently we support:
English
Dutch
German
French
Spanish
In the settings page you can select your default language and you can set a default language for projects coming through the lead forms. Your language not in here, send us a message.
---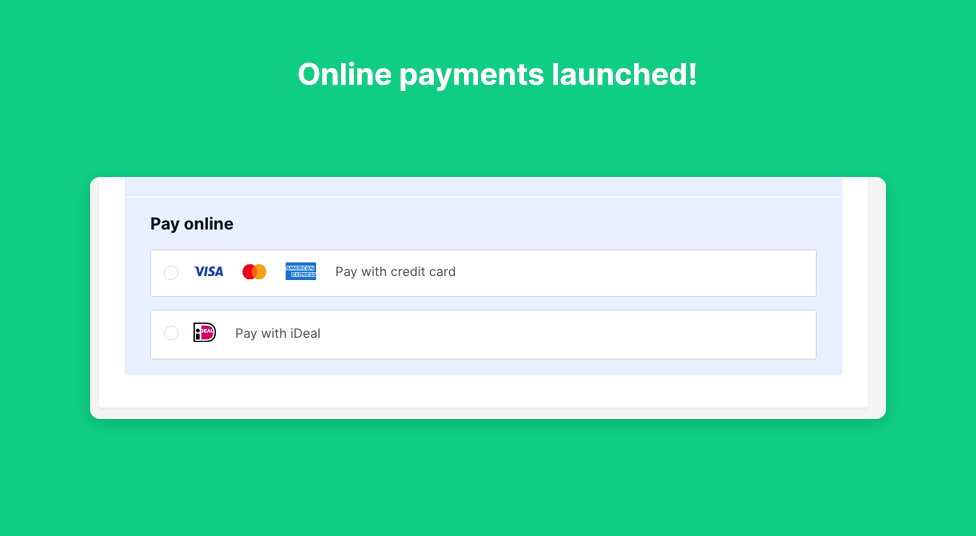 Online payments
October 6, 2020 · New feature
Yeah! Very excited to announce you are now able to accept online payments on your invoices. We made an integration with Stripe and it's now possible to accept both credit card payments and iDeal (only accepted in the Netherlands and in euros).
---
Mobile version
August 14, 2020 · New feature
We released the mobile version of Octoa! Now you can access Octoa whenever wherever perfectly.
---
Automatic invoice number generation
August 10, 2020 · New feature
Octoa continues to lessen the burden of having to worry about your invoices. Everytime when you create a new invoice (or generated from a proposal), the invoice number will automatically generate when you send it out. This way you will not having to worry about invoice number especially for invoices that have not been sent! (of course, if you want to edit the invoice number manually, you can also do so freely)
---
July 2020, updates
July 13, 2020 · New feature
Design your lead form
Additional colors and options are added when you are creating your lead form. You can now design the lead form to as close as your own site!
New invoice footer
We heard you! Different countries require their own method of displaying bank / invoice details. Invoice payment footer are now more flexible with the ability to add as much as information you would like, as well as changing the label and value.
Duplicate templates
Under all the template section, you will now find a duplicate icon next to the trash icon. By clicking on it, we will create a copy of your template instantly!
---
Couple of small updates
June 21, 2020 · New feature
We fixed a bunch of small issues. Like uploading your logo, adjusting information, etc. Also now you're able to duplicate your templates so it is easier and quicker to create new ones based on already existing information.
---
Octoa went live!
June 8, 2020 · Launch
After years of working on the project from concept to a viable product, we have now released Octoa for everyone to be able to use, test and take their company to a higher level. We are looking forward to receiving your feedback so we can together develop this tool to something that will make the lives of creatives easier and more efficient.
---